Felix Kjellberg, a Swedish gamer or Youtuber, is most widely recognized as PewDiePie. An online personality is known for a Let's Play video and makes comedic format videos and shows. The way he does funny commentaries on gaming and the type of way he interacts with people has made him one of the best content creators to date. We can say he is one of those who spread the popularity of the gaming video genre. In 2010, he registered on Youtube and used to upload videos of playing horror and action games.
He routinely uploads videos to his channel, which then became one of the fastest-growing channels between 2012 and 2013. Furthermore, his growing fanbase got him the tag of the most-subscribed channel in August 2013.
Early Days
PewDiePie was born on 24 October 1989. Gothenburg, Sweden, is where he was born and reared. Both his mother and father worked in cooperatives. He chooses quite a different field from his parents. PewDiePie and his older sister were 2 siblings.
In his childhood, he had a keen interest in drawing and he told in one of his interviews that he used to draw the character of video games that was famous at that point in time like Mario and Sonic Hedgehog. The video game that he plays was Star Fox, Donkey Kong Country 2, etc.
During his school time, he skips his classes just to join his friends on the Internet cafe and he always asked him to study leaving his video games. Then in the last year of his schooling, he bought a computer from the income that he made from the artwork.
20-year-old Felix Schelberg begins his first year of university, pursuing a degree in industrial economics and technology management. However, It didn't take long for Felix to become disinterested in his degree. He just grew bored and wasn't enjoying it at all. Felix found interest in a few of his hobbies, the first of which was Photoshop art, for which he had a great passion and a large amount of talent, and video games.
How did PewDiePie become the world's biggest Gamer?
Felix had been a gamer all his life, and for years he had been interested in trying to make gaming commentary videos on a website called YouTube.
He made his first channel on YouTube in 2006, by the name of PewDie. But forget the password to the PewDie account, and recreated the account by the name of PewDiePie on 29 April- 2010. Throughout this process, his parents refused to support him financially then he start selling copies of his Photoshop artwork and working on the hot dog stand. He quit college not to pursue Youtube as a career but he has a passion for making videos & even he don't know that he could make money from it.
Luckily, he was able to use some of the money he had made from his Photoshop work to purchase a new computer, with which he was able to continue working on both his art as well as his YouTube videos. The YouTube scene in 2010, and 2011 was very different than it is now. Most prominent YouTubers were typically bloggers or sketch comedians. Gaming on YouTube existed, but not quite in the same form as it does today.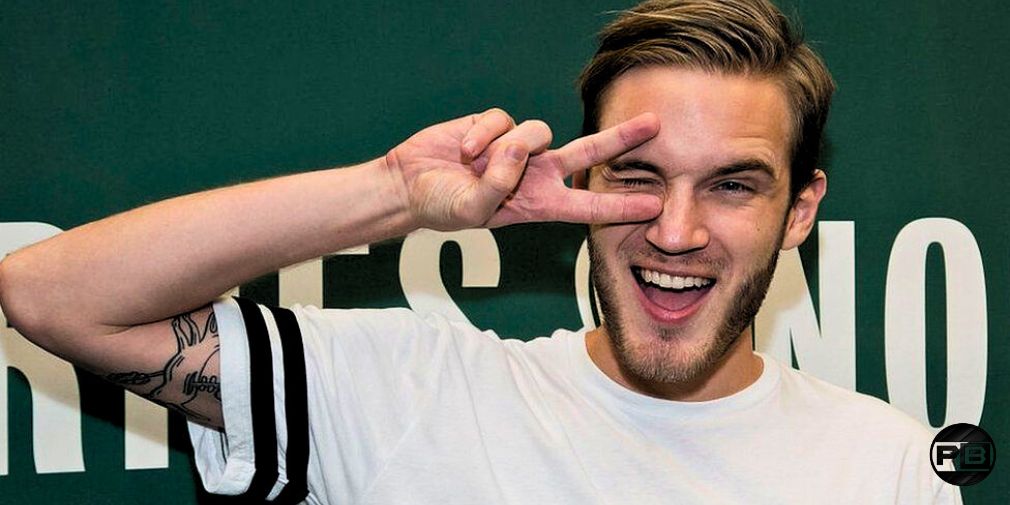 Passion becomes Profession
When it came to YouTube, Felix was just there to have fun. And yet come to the end of 2011, things over on the PewDiePie channel were actually beginning to pick up steam. He surpassed 100,000 subscribers in January of 2012 and had begun to make a name for himself through his mostly horror game-centric Let's Play videos. Here horror gaming means amnesia centric.
His various Let's Plays were earning good views, it was his series of scary and funny highlight montage videos that really helped the PewDiePie channel take off, gaining hundreds of thousands, even millions of views each.
Felix's channel just continued to grow. His channel passed 1 million subscribers by July 2012, only to then jump all the way to 10 million subscribers by July of the next year. But it only got crazier from there. Boasting just over 19 million subscribers, making him far and away the most subscribed channel on all of YouTube, a position he's held to this day, currently clocking in at over 100 million subscribers.
After all this success, when people talk about gaming on Youtube, it means they were talking all about PewDiePie. Afterward, he was beginning to make his content less on the games and more on his own personality.
How much money Does PewDiePie Make?
Felix is the only one who is aware of PewDiePie's net worth. His earnings increased year after year from 2010 through 2016, when Forbes said he was YouTube's highest earner, earning $15 million that year. Forbes believes that PewDiePie still managed to earn 12 million in 2017.
While it is reasonably not easy to estimate his income, it is more difficult to predict how much he has spent throughout the years. PewDiePie's net worth is expected to reach $64 million in 2023.
T-series Vs PewDiePie
T-series and PewDiePie are the two well-known main channels on Youtube. They both give great competition to each other. Since February 2017, T-Series has held the title of most-viewed YouTube channel, and PewDiePie has held the title of most-subscribed YouTube channel since August 2013.
The competition between the two of them, increased when T-series subscribers start reaching the PewDiePie subscribers.
There were many Youtubers who supported PewDiePie some of them were Markpilar, MrBeast, Logan Paul, and many more. The followers even started the slogan "Subscribe to PewDiePie". Huge support was for PewDiePie like hacking from Youtubers, even criminal acts being done, and also other activism e.g. putting up posters, and several marches held. Furthermore, many things were against PewDiePie from the T-series fan base. 
Final Thoughts
Behind every successful individual lies a lot of struggle. Even in Felix's life, there were a lot of controversies in his career which brings a lot of problems to his life. But still, he faces it and got a commendable success in his life.
Join the gaming community and stay up-to-date on the latest news and trends with ThePlayBro.